12 January 2018
This week's HART Weekly Review features a letter signed by Baroness Cox to the Government, blogs and a summary of the top stories from the countries where we work.
Letter to the UK Government to redouble efforts in South Sudan: Baroness Cox co-signed a letter to the UK Government to increase peacebuilding efforts in South Sudan. 
---
Blogs
The UK and Sudan: Trade Relations and Human Rights: The relationship between the UK and Sudan has been strained following twenty years of sanctions, but all seems to have been forgiven or forgotten.
---
News Round Up –  the top stories from this week's news in our partners' countries
Burma
Myanmar military says soldiers murdered 10 captured Rohingya:  Myanmar's military said its soldiers had murdered 10 captured Muslim "terrorists" during insurgent attacks at the beginning of September, after Buddhist villagers had forced the captured men into a grave they had dug.
Privacy Law Used to Prosecute Critics: Burmese authorities should not pursue a criminal complaint brought under Burma's privacy law against a Facebook user for posts critical of a state chief minister, Human Rights Watch said today.
Nagorno-Karabakh
Ilham Aliyev: World community recognizes Nagorno-Karabakh as an integral part of Azerbaijan: The president made the remarks on Wednesday at a meeting of the Cabinet of Ministers dedicated to the results of socioeconomic development of 2017 and objectives for the future, APA reported.
Russia to support Italian OSCE Chairmanship's efforts in process of Nagorno-Karabakh conflict settlement:Russia will support the Italian OSCE Chairmanship's efforts in the process of Nagorno-Karabakh conflict settlement.
Nigeria
Goodluck Jonathan speaks on 756 Nigerians dying under his watch: Former President Goodluck Jonathan has reacted to the claims by the presidency that 756 Nigerians were killed under his administration.
Fulani Herdsmen Attacks: Buhari's Silence Discomforting: The Catholic Bishop of Gboko, Most Reverend William Avenya, has accused the federal government of being discomfortingly silent in the face of the wave of attacks by Fulani herdsmen on 14 out of 23 local councils in Benue State.
South Sudan
'Hunger is killing me': starvation as a weapon of war in South Sudan: Once regarded as South Sudan's breadbasket, the ravaged Equatoria region is slipping into catastrophe, its once self-reliant citizens now dependent on handouts. An estimated 1.25 million people in South Sudan are on the brink of starvation, according to the latest food and security analysis update by the UN and South Sudan's National Bureau of Statistics, released in November.
South Sudan lauds China's contribution to health sector: The South Sudanese government has commended China's contribution to the country's health sector. The health minister, Riek Gai Kok said good relations between South Sudan and China have positively impacted on the health sector.
Sudan
Sudan protests: Three dead in 'bread protests': Three people have died in protests against the rising cost of basic foods in Sudan. Protests sparked after the government decided to cut subsidies, which led to the increase in prices.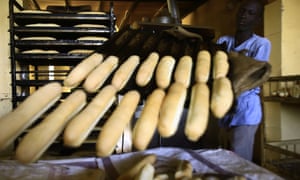 Belgian government at risk of collapse over Sudan migrants scandal: Belgium's coalition government is at risk of collapse over a scandal involving the forced repatriation of 100 people to war-torn Sudan.
Uganda
Tullow Oil to exit Uganda this year: In a trading and operational statement update released on Wednesday, Tullow Oil said the farm-down in the country is on progress as the firm awaits Government's approval of transactions with the other joint venture partner firms in Uganda.
Abducted at nine to be a girl soldier for Kony: 'Now people call me a killer': When Agnes Acayo escaped from the rebel group who had abducted her at the age of nine, she felt overjoyed to be free and back home at last. She had spent 10 years in captivity as a child soldier and later was forced to marry a member of the Lord's Resistance Army (LRA) in Uganda.
Back to News
Help our local partners realise their vision of hope for their communities